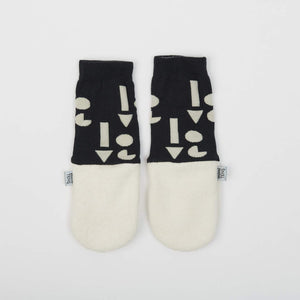 MimiTENS
Upcycle Collection Mittens
Regular price
$21.00
$0.00
The mimiTENS UPCYCLE collection is one of MimiTENS' the most special projects. They are making something awesome and trying hard to lessen impact of the fashion industry on the environment. 

With the mimiTENS UPCYCLE COLLECTION bags of fabric off-cuts from a factory in Mississauga are used to make 100% cotton mitten that feels like posh European felt. The mittens and booties are soft and pliable.  
They are the perfect layer for when it is cool out but not entirely freezing.  
FABRIC CONTENT:
mittens and booties: 100% cotton.  Oeko-Tex certified.
sleeve: 85-90% cotton and 10-15% nylon. 

CARE INSTRUCTIONS:
Wash mittens and booties in cold water.  
Tumble dry low or hang to dry.  
Do not dry clean. Do not iron. 
SIZING:

Size BABY - does not have a thumb.  
Sizes 1-4 - these size do have thumbs.
These measurements are taken from the outside of the mittens.  
Please note that the mitten will be a bit smaller on the inside.  
SIZE BABY - 7 cm wide by 10 cm tall. 
SIZE 1 - 8.5 cm wide by 11.5 cm tall.
SIZE 2 - 8.5 cm wide by 13.5 cm tall.
SIZE 3 -  9 cm wide by 14 cm tall.
SIZE 4 -  9 cm wide by 14.5 cm tall.
---
More from this collection