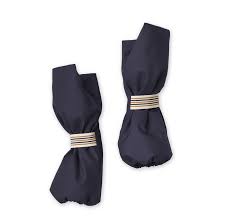 Fairchild
Fairechild Mittens
Regular price
$52.00
$0.00
These are 100% waterproof and a great solution for cold little hands. Layer these Mittens with your own wool or fleece options for added insulation as the seasons change. Extending to the mid-forearm, these mittens will protect your child's hands and wrists from the rain and snow. The beautifully detailed elastic keeps the fit snug.

The Fairchild unique fabric is made of 100% recycled plastic bottles, contains no harmful chemicals, is fully waterproof and yet breathable. The woven material also has a beautiful texture, is soft to the touch and has an elegant matte finish!
In Germany, recycled PET plastic bottles are broken down and spun into rPET yarn, then woven to create sustainable fabric called Sympatex. 
The innovative production process 
reduces CO2 emissions by 32%, using 60% less energy and 94% less water, compared to oil-based polymers. 
Fairechild products align with the Global Recycle Standard that verifies our use of recycled materials.
The Fairchild products are tested thoroughly to ensure they're fully waterproof, using a rain tower to simulate intense rainfall like a monsoon.
The waterproof membrane has a water column of 20,000 mm, which is the amount of water it can endure, before there's a potential leak. That's at least 2-3 hours of rain. For extra protection, all of our products also have taped seams to stop water from getting through.
The fabric is made from a non-porous, flexible material that pulls moisture away from the body, allowing it to evaporate for ultimate comfort. 
The recycled fabric is both PTFE-free and PFC-free. It's made of only three elements (oxygen, carbon, and hydrogen), so it poses no health risks.
Fairechild is OEKO-TEX certified, a standard that's higher than government regulations, ensuring the garments are free of harmful chemicals. They are also approved by Bluesign, a sustainability standard that ensures the lifecycle of our products and guarantees the highest level of consumer safety. 
 
The Fairchild signature, bonded fabric is designed for durability and comfort. The lining absorbs moisture, the membrane is waterproof and the outer shell is durable.

---
More from this collection