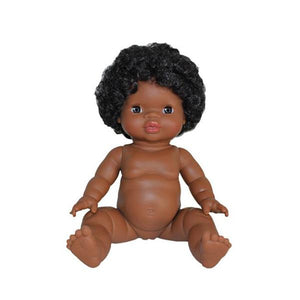 Minikane
Minikane Doll - Imani
Regular price
$57.00
$0.00
This gorgeous newborn baby doll from Minikane is a really great gift. The Minikane dolls are made in Spain by Paola Reina using the highest quality materials. The hair on Paola Reina dolls is styled by hand, their facial features are hand-painted and their eyes are made of hard plastic with relief, which gives them a life-like expression. 
Imani is made by Paola Reina and exclusive to Minikane. 
Main features:
The doll's arms, head and legs turn. You can put her in a standing and sitting positions;
Black hair;
Blue eyes;
Large eloquent eyes made from safe transparent plastic;
The doll's eyes do not close;
The dolls are handmade (eyelashes, cheeks, lips, hair), which makes them look so natural.
Role-playing with a doll stimulates the development of visual thinking, imagination, and speech;
The dolls have a slight vanilla aroma.
Age: 3 years+
Size: 34cm
Material: High quality vinyl
Made in Spain
---
More from this collection